Cannonball Jellyfish (Stomolophus meleagris)
Stomolophus meleagris or cannonballs have robust, dome-shaped bells that range from 7 to 10 inches in width and about 5 inches in height. The bell of cannonball jellyfish in the Atlantic and Gulf is milky white, often featuring a rim shaded with brown pigment. Cannonball jellyfish from the Pacific are blue. The cannonball jellyfish has 16 short, forked oral arms and mucus-coated secondary mouth folds or scapulets. They are common on the southeastern coast of the United States, including the Gulf Coast. On the southeast coast they are extremely abundant in the summer and autumn months.
They are easy species to breed and grow, however they rarely grow over 2 inches in captivity.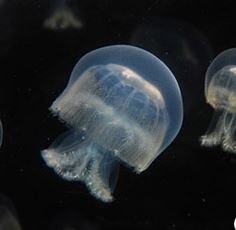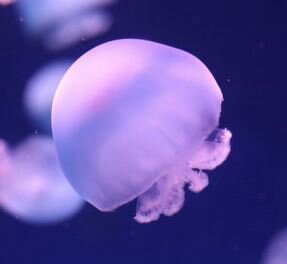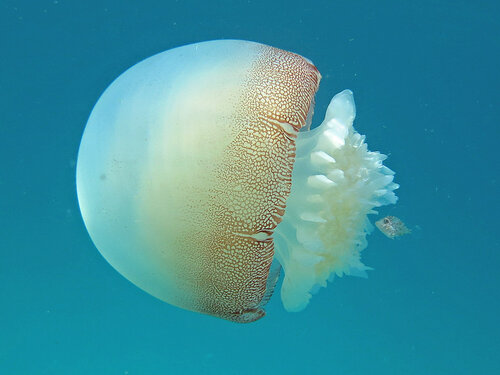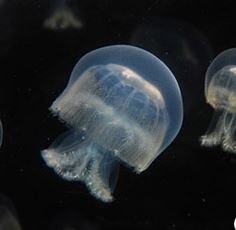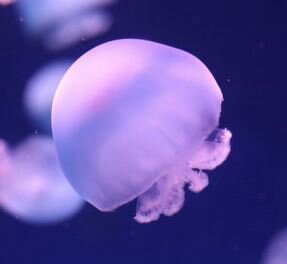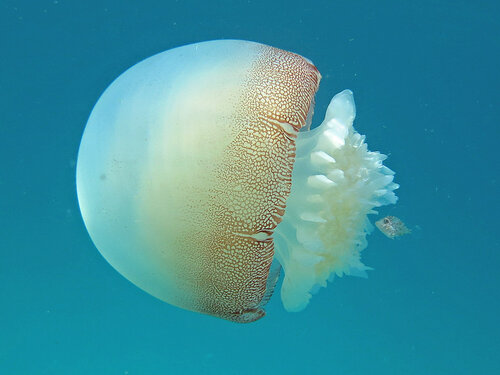 Harmful to humans: No

Distribution: Estuaries and along coastal shorelines of Pacific Ocean (South China Sea to Sea of Japan, and California to Equador) and the mid-west Atlantic Ocean (New England to Brazil)

Maximum Bell Size: 25 cm (10 inches)

Life Span: 1 year

Feeding: Freshly hatched baby brine shrimp, coral reef food

Temperature: 20 – 26°C (68 – 79°F)

Salinity: 30-35ppt

Photosynthetic: No

Care level: Moderate
Notes: Very energetic species which requires a lot of food to grow. 2-3 times per day with freshly hatched baby brine shrimp is recommended for their healthy growth.